Details

Created on Saturday, 15 August 2015 19:34
Last Updated on Saturday, 15 August 2015 19:34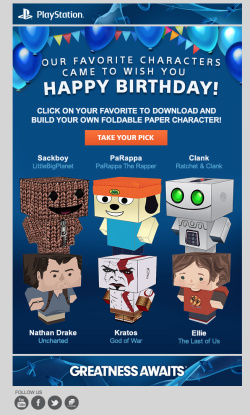 Many happy returns
The secret to corporate success was simple all along: you just have to pretend to be your consumer's friend. Sony cottoned onto this at the start of the generation, making silly videos about used games and reminding us that it cares. And now Microsoft has stumbled upon the strategy, with gaffer Phil Spencer whispering sweet nothings to fans on his personal Twitter account.
But as transparent as it all is, we do rather like these paper-based goodies that the Japanese giant's emailing to people on their birthdays. Alright, this may be the lousiest gift ever, seeing as you have to print and assemble it yourself, but we were always taught that it's the thought that counts. And, to be honest, they look pretty rad when put together – below's one that someone on Reddit made earlier.
Which character from the pictured selection will you be preparing when your birthday rolls around? Send us a card in the comments section.
Read more